During It's About Time, our art, film, music and performance festival, Ragged Wing Ensemble is offering a series of workshops that are intended to bring an experiential insight into our creative process. Come discover your artistic self, learn new skills and have some fun in the process. No prior experience or training is necessary and we encourage all (including complete newcomers) to attend. Workshops are open to adults 16 and over.



LOCATIONS:
Envision Academy
1515 Webster St.
Oakland, CA 94612

SoleSpace
1714 Telegraph Ave. @ Broadway Ave.
Oakland, CA 94612


PRICE:
Fee: $10-$50 sliding scale per workshop - pay what you can
To register: email your name, phone number and requested workshop to:
workshops@raggedwing.org
Reduced rates available for work study.

QUESTIONS:
anna@raggedwing.org
510-847-5353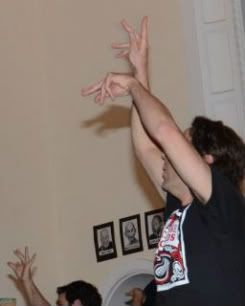 "IT'S ABOUT TIME"
Workshop Schedule
June 1 – Foundations of Flight (10:00am - 1:00pm) Envision Academy
Instructor: Soren Santos (bio)
Foundations of Flight is a physical workshop for all levels designed to teach the beginnings of acro-balance and partner stretching. Learn to create dynamic partner shapes, share weight, and take off from the ground!
June 5 - Reading the Ensemble Mind (6:00pm - 9:00pm) Envision Academy
Instructors: Cecilia Palmtag (bio) & Addie Ulrey (bio)

What allows a group to turn together on dime? What is the key to discovering this connection, and what gets in our way? Synchronicity between pairs, groups and ensembles is a lightning fast path to authenticity in the moment. But, how do we get there? In this three hour workshop we'll introduce a few games and exercises to hone this ability. They are the scales, arpeggios, and etudes of the performer, designed to acquaint both the individual consciousness and the ensemble consciousness with that heightened state of being.

June 6 - Psycho-physical elements of Michael Chekhov (6:00pm - 9:00pm) Envision Academy
Instructor: Phil Wharton (bio)
In an inspired performance the actor's body and imagination interact as a dynamic unity. The goal of the psycho-physical exercises developed by Michael Chekhov is to develop an inward mobility and receptivity in the body that enables it to incorporate the pictures, impulses and ideas that arise out of the creative imagination; then in its turn the imagination can be stimulated and inspired by the body.

June 8 - Adapting works for the stage (10:00am - 1:00pm) Envision Academy
Instructors: Adam Sussman (bio) and Annie Paladino (bio)

In this workshop well explore different methods of using ensemble-based work for adapting existing material for theatrical performance. Participants will learn how to utilize composition work and other devising practices to generate material and test staging ideas with a group of creative collaborators. We'll also ask vital questions that examine the artistic impulse behind adapting an existing work and discuss how these insights can then be used to guide an ensemble in their creative process. All participants will be asked to bring a short piece of text that's part of larger work they are interested in adapting.
June 9 - Creating Original Performance Inspired by Visual Art (2:00pm - 5:00pm) Sole Space
I
nstructor: Anna Shneiderman (bio)
Join Ragged Wing Executive Director Anna Shneiderman for this exploratory workshop on creating original performances using visual art as the starting point. We will work in the gallery of "It's About Time" among the paintings, photographs, sculptures and video installations of our current show. Participants will breathe in these works, listen to them deeply, and create original text and movement-based performances in response. Together, we will deepen the experience of encountering artwork and blur the boundary between art-viewing and art-making. No experience of any kind necessary - just curiosity and willingness to open up creatively.